Growing popularity of flight tracking sites has billionaires worried.
It's not easy being a jet-setting billionaire these days.

A boom in online flight-tracking apps and enthusiastic plane-spotters means every trip is open to public scrutiny — and a target for accusations of unnecessary luxury and emissions.

Some high-profile jet owners are crying foul, complaining about a breach of privacy.

"Can you take this down? It is a security risk," Tesla CEO Elon Musk is reported to have written to Jack Sweeney, the teenager behind the Elon Jet Twitter account that follows planes registered to Musk. Sweeney rejected an offer of $5,000 to take down the account.

But experts aren't particularly sympathetic to the privacy argument, arguing that trackers follow airplanes, not specific people.

Indeed, when data on the CO2 emissions of frequent private jet use landed a number of celebrities in hot water in July, singer Taylor Swift said she topped the list only because she often rents out her jet.

Not everyone is in the game to guilt high emitters. Sweeney tracks a host of celebrities including Tom Cruise, the Kardashians and Bill Gates, as well as Musk. He said he'd stop tracking Musk for $50,000 or if the world's richest man did him a favor.

"If he let me fly with him on his jet, record it and talk about it — and maybe not even pay me the $50,000 — I would take it down," he told the New York Post.

In France, "the right to privacy is mainly targeted to protect individuals, and since private jets are very often linked to companies, any infringement on the right to privacy would be very hard to prove," said Suzanne Vergnolle, a professor of technology law at the CNAM Institute in Paris.

There's a clear public interest in ensuring data on private plane journeys stays public, she added.

Tracking sites are drawing attention to the environmental impact of the private flights of the ultra-rich at a time when governments are asking the public to favor trains to help slash CO2 emissions.

Flight-tracking sites are increasingly popular in France, the EU's private jet capital. One Twitter account showed a plane belonging to Vincent Bolloré, CEO of the transport, logistics and communication multinational company Bolloré, making five journeys in just over 12 hours on August 8, flying between Paris, Palermo, Nice and Toulon.

Public attention is having an impact: Transport Minister Clément Beaune wants to discuss stricter regulation for private jets at the next informal meeting of EU transport ministers, while the leader of the French Greens Julien Bayou has called for an outright ban.

Currently billionaires and companies "can do greenwashing on one hand and then use their private jets to go to a city that is a one-hour-and-a-half train ride," said Vergnolle.
Right to privacy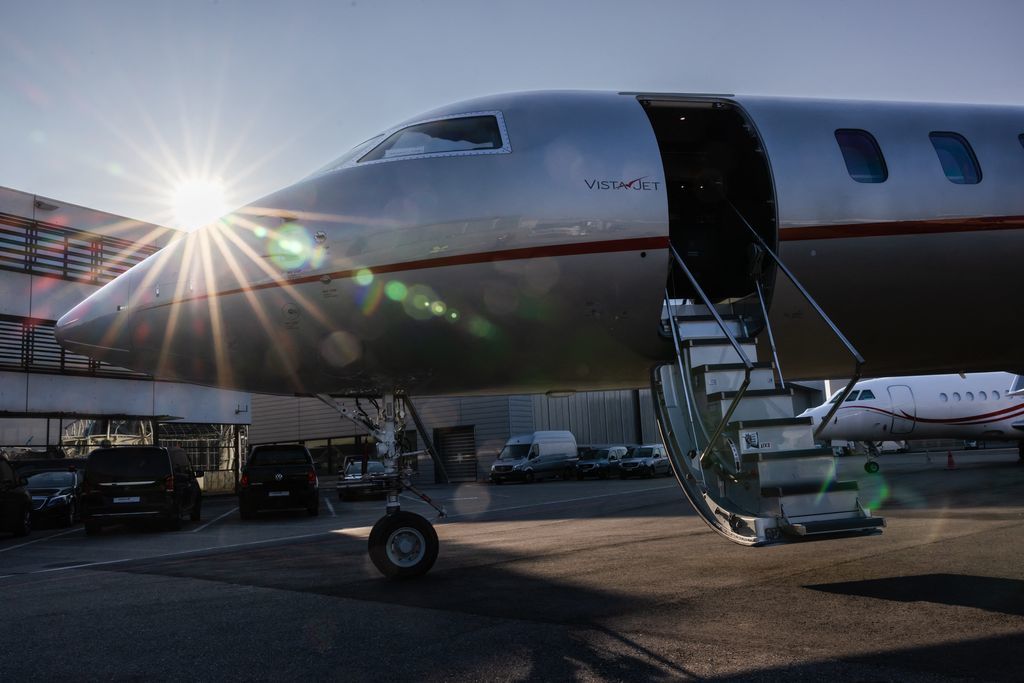 Trackers should focus on the environmental impact of private flights, rather than naming and shaming individuals or companies

In 2019, total emissions from private jet flights departing from EU airports totaled around 2.9 megatons of CO2 — nearly the same amount as passenger airline British Airways for the same year, according to Transport & Environment, a clean mobility NGO.

Some commentators have argued that trackers should focus on the environmental impact of private flights, rather than naming and shaming individuals or companies.

Publishing distances traveled and CO2 emitted, rather than exact routes and times, would protect the privacy of travelers while still demonstrating their pollution footprint.

"Any fundamental freedom must be universal," Guillaume Champeau, founder of the French media site Numerama, wrote in a blog post. "Poor people and billionaires have the same right to privacy."

Champeau pointed to policies like caps on distances traveled, taxation or outright bans as potential ways to reduce the environmental impact of private planes without breaching their owners' privacy.

Vergnolle warned that limiting access to flight data would set a worrying precedent, pointing out that journalists frequently rely on tracking sites to report on the travels of national leaders.

"If you start to say, OK, for privacy reasons, we're going to remove this information, then dictators are going to be saying, 'Oh, but for our privacy or for safety, we need to remove this information' and so on," she said.

The U.S. Federal Aviation Administration already allows, for privacy reasons, aircraft owners to be on a list that forbids FlightRadar24, the most popular flight tracking site, from publishing data relating to those planes.

But many of the Twitter accounts dedicated to following the planes belonging to a handful of high-profile individuals — including Celebrity Jets, Russian Oligarchs' Jets, and Elon Jet — use another website, ADS-B Exchange, to track the journeys.

Regulating that data is more complicated, as it doesn't come from a regulator or government authority, but from thousands of aviation enthusiasts who upload the information themselves.

The site receives dozens of requests each year from owners to stop posting aircraft movements, according to Dan Streufert, ADS-B Exchange's founder.

"We have not removed anything so far … and I don't want to be the arbiter of who's right and who's wrong," he said.

"You'll never see an aircraft censored or 'blocked' from our site. If one of our feeders is receiving it, the data will be there. This includes military, and other aircraft that attempt to be 'unlisted,'" the company says on its website.

Even the organization representing private and business jet owners in Europe, the European Business Aviation Association (EBAA), says it's not an issue worth lobbying on.

"It's public information, so there's nothing really we can do about it," said EBAA's communications manager, Róman Kok. "If you were driving a car and someone spotted your license plate they'd be able to track you. As soon as you go onto the street, you should reasonably assume that you're not in private space anymore, and therefore people will see you."

The privacy issue only affects the most famous jet owners, he added, as more anonymous owners don't come under a great deal of public scrutiny.

"When it comes to the complaints, these are individual cases," he said. "When it comes to really, really famous people, that scrutiny comes with being famous, and not having an aircraft."