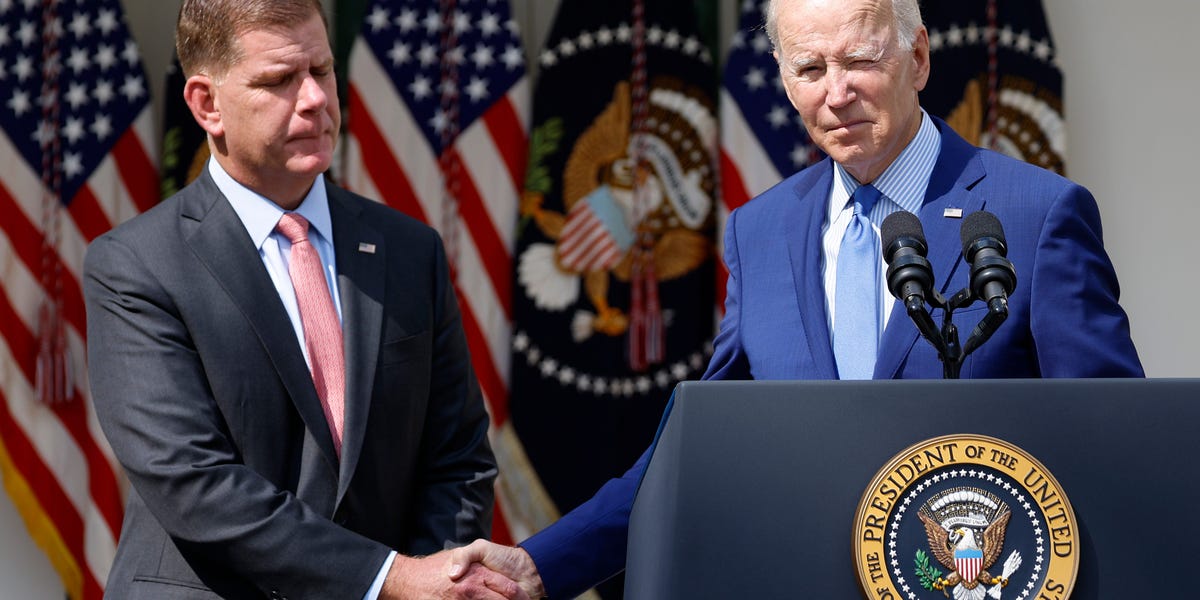 Biden's labor secretary says he's watching tech layoffs closely, but for now it's still a good time to find a job
Labor Secretary Marty Walsh said he's not sure if the tech layoffs will be an issue for just a couple of months, or a longer-term situation.
The job market is booming, even if it doesn't feel like it. The country added over half a million jobs in January, well above economists' expectations, and the unemployment rate fell to its lowest since 1969.

It might feel contradictory, with thousands of layoffs sweeping across the tech and media sectors. But the data shows that layoffs are not spreading to the broader economy, indicating that some sectors are just dealing with their own adjustments.

Even so, Secretary of Labor Marty Walsh is keeping an eye on the situation.

"We're watching that closely to see what that means for the tech sector," Walsh told Insider. "I'm not sure if this is a couple of months issue or is this a longer term situation, but we're watching that closely." Walsh said that "we're seeing a lot of those folks who are being laid off are going back to work in the private sector."

Walsh is not sold that apocalyptic predictions about economic conditions are going to come true. While the economy probably won't add over half a million jobs every month, he said, gains have been consistently strong over the last 12 months.

"I'm not in the camp that we're heading towards a recession or downturn in the economy. There might be certain sectors that might be hit a little harder than others," he said. "We have to continue to watch this and, and hopefully we continue to see good, strong growth throughout the year."

And for those who are laid off or job hunting, Walsh wants them to know that "there's work out there." Just look at today's report: Hospitality and business services are hiring an "incredible amount," he said, and there's "options out there for people."

Other sectors Walsh sees opportunity in: Construction, especially with the bipartisan infrastructure bill doling out billions; healthcare, especially in eldercare and assisted living facilities; nursing; and cybersecurity.

That doesn't mean that you should necessarily quit for a better deal. Even with over 4 million Americans quitting their jobs, Walsh doesn't want the emphasis to be on the Great Resignation — he said he doesn't believe in terms like that — but instead on companies shifting more towards retaining the workers that they do have.

"Ultimately, what we'd like to see is sustainability in the job place. I think a lot of employers are seeing that," Walsh said.

That might be part of the reason that the jobs report is so robust, according to Walsh. Employers are keeping around people, rather than laying them off as they would have in the past.

"When companies had to lay people off at the beginning of the pandemic, they had a really hard time getting people back," Walsh said. "I think that the lesson is learned from that experience."