The government needs to "reserve the possibility" of bringing in new Covid rules in England as cases of the Omicron variant surge before Christmas, the prime minister has said.
Boris Johnson did not announce any new measures but said ministers were "looking at all kinds of things".

The PM said the data was being reviewed "hour by hour" and there were still "some things that we need to be clearer about before we decide to go further".

He urged people to exercise caution.

A further 91,743 Covid cases were reported across the UK on Monday, the second highest daily total on record.

The government's scientific advisers say new restrictions may be required very soon - and have suggested reducing the size of groups that can meet and closing venues where there is a high risk of transmission.

But Mr Johnson faces opposition to new restrictions from within his party. Nearly 100 Tory MPs voted against the government's decision to bring in Covid passes last week, while Brexit minister Lord Frost resigned from government at the weekend over "coercive measures" to tackle Covid.

Speaking after a two-hour cabinet meeting, Mr Johnson said the arguments for taking action were "very, very finely balanced".

He added: "Unfortunately I must say to people that we will have to reserve the possibility of taking further action to protect the public, to protect public health, to protect our NHS. And we won't hesitate to take that action."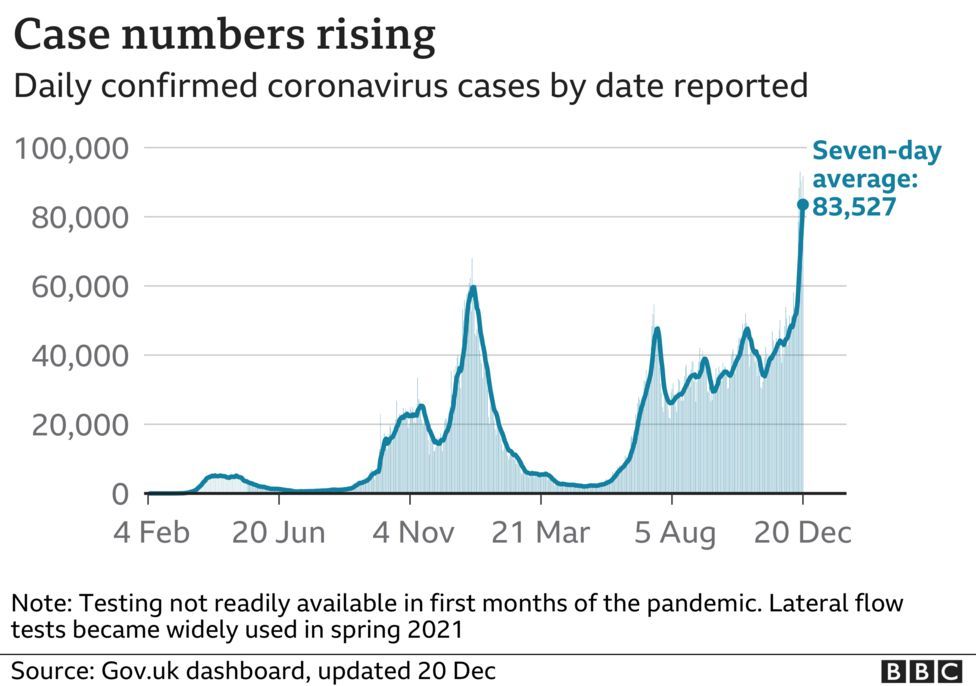 Asked about the prospect of further restrictions before or after Christmas, Mr Johnson said: "We are looking at all kinds of things to keep Omicron under control and we will rule nothing out.

"But at the moment, what I think we want people to focus on is exercising caution - so ventilation, masks in the appropriate places, all the usual stuff about washing hands, but remember how contagious Omicron really is."

The prime minister said "what really matters is for everybody to get vaccinated and get boosted".

He also acknowledged the impact that recent behavioural changes by some people, such as cancelling bookings, were having on businesses in the hospitality sector, saying the economic impacts would be kept "under constant review".

London Mayor Sadiq Khan urged the government to provide "immediate support" to businesses in the hospitality, retail and culture sector to prevent jobs being lost, saying in a tweet that "time is running out".



Analysis
By Damian Grammaticas, political correspondent

The PM had been urged to give clarity. The nation was waiting to hear if there would be more restrictions coming - and if so, what and when?

Boris Johnson and his cabinet had spent more than two hours deliberating. But what Mr Johnson told us didn't answer those questions.

On how serious things are, he said there were still "uncertainties" and "we should keep the data under review".

On what possible action might come, he said: "We are looking at all kinds of things."

Could it still happen before Christmas? "We will rule nothing out," he replied.

So this was a decision by the PM not to do more right now, despite the fact he said cases were "surging".

Was that because of doubts around the cabinet table? Or because the PM - as he pointed out - believes people are already adapting their behaviour and he wants more time to see if that's enough to control the spread of Omicron?

Perhaps, but it perpetuates the uncertainty. And, as the scientists have said, delay has consequences in itself, because cases continue to rise.

Leaked notes from the Scientific Advisory Group for Emergencies (Sage) suggest that, without intervention beyond current Plan B rules in England, hospital admissions could reach 3,000 a day.

And the BBC has been told that civil servants have produced three options for future Covid measures, ranging in severity from low to medium and high.
Deputy PM Dominic Raab earlier refused to guarantee that no new rules - such as a circuit-breaker lockdown - would be brought in, saying: "We've said we can't make hard, fast guarantees... it depends on the severity of the Omicron cases."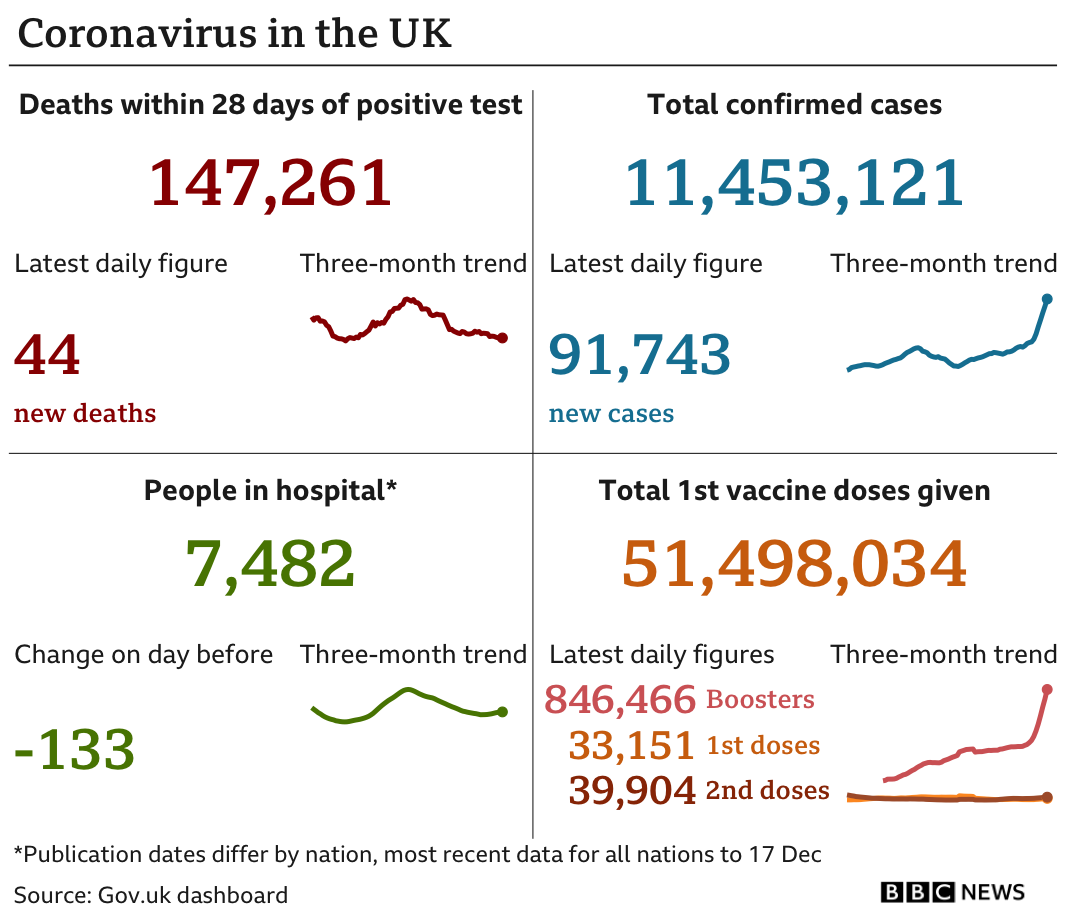 Shadow health secretary Wes Streeting accused Mr Johnson of having "absolutely nothing new to say, no plan whatsoever".

He told Radio 4's PM programme: "Boris Johnson is paralysed by weakness because of fear of his own backbenchers... no-one wants to bite the bullet and level with the public this side of Christmas."

And Liberal Democrat leader Sir Ed Davey criticised Boris Johnson's "indecision", arguing he was providing "more chaos and confusion" at a time people "urgently need clarity and reassurance".

The current rules for England - known as Plan B - include Covid passes for certain events, face masks in more places and people being urged to work from home if they can.

Other nations of the UK have similar rules, though Scotland has gone further by asking people to limit social contact to three households at a time in the run-up to Christmas.

However, First Minister Nicola Sturgeon confirmed on Monday that people in Scotland would not face fresh restrictions on Christmas Day gatherings.

Wales has also ordered nightclubs to close from 27 December.

Matthew Taylor, chief executive of the NHS Confederation, said health experts were not calling for further restrictions as they know they "can be very damaging to people's health and wellbeing", but added officials feel it is "now a question of when rather than if" they will be needed.

He said: "If the Plan B measures and boosters prove not to be enough, [experts] expect the government to respond quickly and pre-emptively in the national interest to the range of advice and modelling it has."

There were 1,024,833 people given a Covid-19 vaccine dose on Saturday - the highest single daily jab figure on record - more than 940,606 of which were booster or third doses.

Vaccinations dropped to 919,521 on Sunday, which is still the fourth highest total on record - beaten only by the number of doses administered on Thursday and Friday.

The news means 50.4% of the UK population - nearly 29 million people - have had a booster dose, with 81.8% having had two jabs and 89.5% one dose.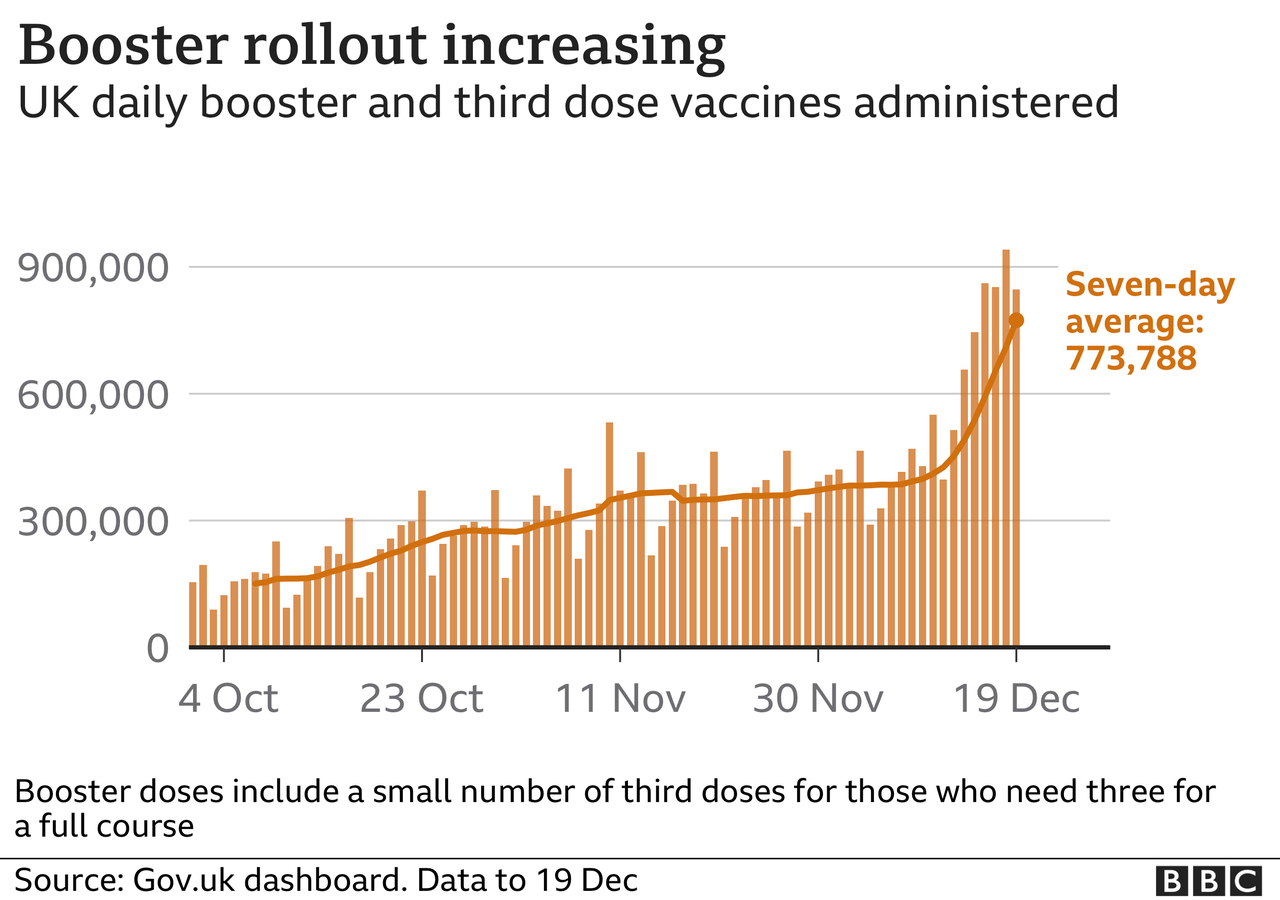 Boris Johnson: "We will have to reserve the possibility of taking further action to protect the public"
Nicola Sturgeon says she wants "people to have clarity about what we are expecting of them" ahead of Christmas Day