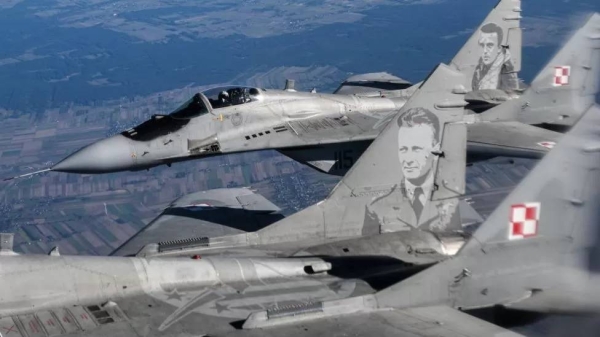 Kremlin threatens to destroy Ukraine jets after Poland and Slovakia pledges
The Kremlin has threatened to destroy any fighter jets given to Ukraine by its allies, after two countries promised Soviet-era planes.
Slovakia became the second Nato country to pledge Kyiv some MiG-29 aircraft on Friday, a day after Poland.

Slovakia's fleet was grounded last year and it no longer uses the jets.

Ukraine has asked Western countries for modern jets, but because of long training times, these are seen only as long-term options.

It sees extra aircraft as important for its defenses and possible counter-attacks, a year into Russia's invasion.

Other Nato countries are considering sending Soviet-era planes such as the MiG, which Ukrainian pilots are trained to fly.

This is a positive move for Ukraine - which has more pilots than planes - but will not make a decisive difference.

The Ukrainians say what they really need is US-made F-16 fighters.

Yuri Sak, a senior Ukrainian defense adviser, says the fourth-generation fighters have better capabilities.

That still seems unlikely - at least for now, as it would take time to train Ukrainian pilots on Western jets.

Western military officers remain skeptical about modern fighters - their focus is on helping Ukraine win the battle on the ground.

The front lines are swamped with air defense systems on both sides. The Russian air force is much bigger than Ukraine's and it hasn't been able to gain control of the skies.

News of the deliveries came amid Russian media reports that Russian Defense Minister Sergei Shoigu had decorated pilots involved in an incident earlier this week which led to a US drone crashing into the Black Sea.

Washington has condemned the Russian actions, in which it says one of the Su-27 jets clipped the drone, as reckless, but Moscow says the drone failed on its own.

Kremlin spokesman Dmitry Peskov condemned the plans by Nato countries, saying that the aircraft would not affect the outcome of Moscow's "special military operation", as it calls the war, but only "bring additional woes for Ukraine and the Ukrainian people".

"Of course, during the special military operation, all this equipment will be subject to destruction," he added.

At the start of Russia's full-scale invasion, Ukraine was believed to have about 120 combat capable aircraft - mainly ageing MiG-29s and Su-27s.

On Friday, Slovakian Prime Minister Eduard Heger tweeted that his government had approved sending the country's 13 MiG-29s.

He said "promises must be kept" and that he was glad others were answering Ukrainian President Volodymyr Zelensky's call for more weapons.

He said Slovakia would also send Ukraine part of its Kub air defense system.

On Thursday, Poland pledged four MiG-29s, to be sent in the coming days, but more are expected to follow.

As with its pledge of Leopard tanks, it has broken a barrier. This was a step no-one was prepared to take a year ago.

It is not clear how many of the Slovakian planes are operational.