India's influential king of "kitsch" broke rules and blazed a trail. Kalpana Sunder explores his remarkable life, work and legacy.
Doe-eyed Menaka, the nymph, tempting the sage Vishwamitra; Goddess Lakshmi, the deity of wealth, standing majestically on a lotus; the god Vishnu riding on his half-bird half-human mount Garuda, a serpent in its talons; a woman holding a fruit, her eyes full of innocence – almost everyone in India (especially South India) has a Raja Ravi Varma (RRV) print somewhere in the house, often in the puja room (the room where gods are worshipped in a Hindu home).

He was the first Indian artist who successfully combined Indian iconography and subjects with Western techniques and styles. His art influenced Indian literature, music, films, advertising and textiles, and even India's largest selling comic book series, the Amar Chitra Katha comics. His themes revolved around Hindu mythology and religion, with portraits of gods and goddesses, studio-style portraits of aristocrats and maharajahs in courtly attire, along with scenes from everyday life.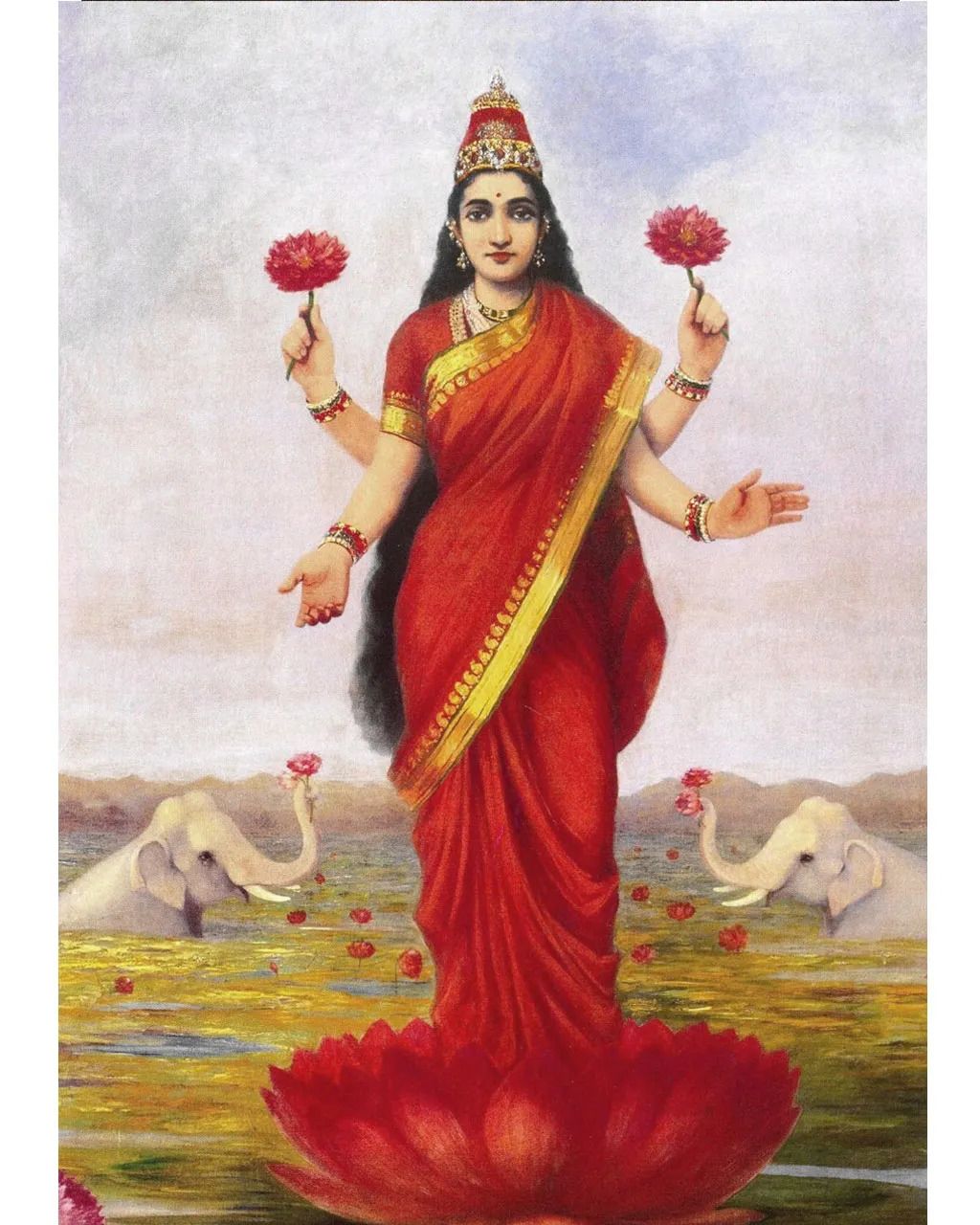 Raja Ravi Varma brought religious and mythological figures to life, such as his 1896 work, Goddess Lakshmi

One of the most prolific Indian artists, he is said to have made more than 2,000 paintings before he died at the age of 58. In 1904, Varma was awarded the Kaiser-e-Hind title (a medal for services to the British Raj). His works have been auctioned for large amounts – Varma's Damayanti was auctioned in New York for $1.6 million (around £1.3 million); an 1890 Ravi Varma oil on canvas, titled Radha In The Moonlight was sold for a whopping Rs 200 million (around £2 million); in 2018, a relatively unknown work by Varma titled Tilottama, was auctioned for $795,000 (£667,419), at Sotheby's in New York.

And earlier this year some of Varma's works were auctioned as non-fungible tokens (NFTs), which are digitally created assets. The auction was held on an online art marketplace RtistiQ in partnership with arts foundation Gallery G and the Raja Ravi Varma Heritage Foundation, based in Bengaluru.

"The reason we decided on NFTs of his work being auctioned was that we need to be relevant to modern times, and the younger generation, and make them aware of this great Indian artist," says Jay Varma, a descendent of the artist, who co-manages the Raja Ravi Varma Foundation.


He took Indian mythology and history, and gave them flesh and blood, clothes, jewellery and architecture – Kishore Sigh

The NFT included five lithographs from the artist's Gods and Goddesses series. "There was a bidding war for all five lithographs. The Goddess Lakshmi lithograph was sold at a whopping $2,150, more than twice the starting bid of $999," says Vinita Angelo, co-founder of RtistiQ. As an artist who was ahead of his time, and who believed that art should not be bound by geography, Varma would no doubt have been happy with this development. As Delhi-based art critic and curator Kishore Singh tells BBC Culture: "This is the artist who took Indian mythology and history, and gave them flesh and blood, clothes, jewellery and architecture, and created heroic stories where women took centre stage. Most Indians recognise mythological characters and deities from his work, and pray to prints of his paintings of gods and goddesses. This kind of Indian art had no precedent."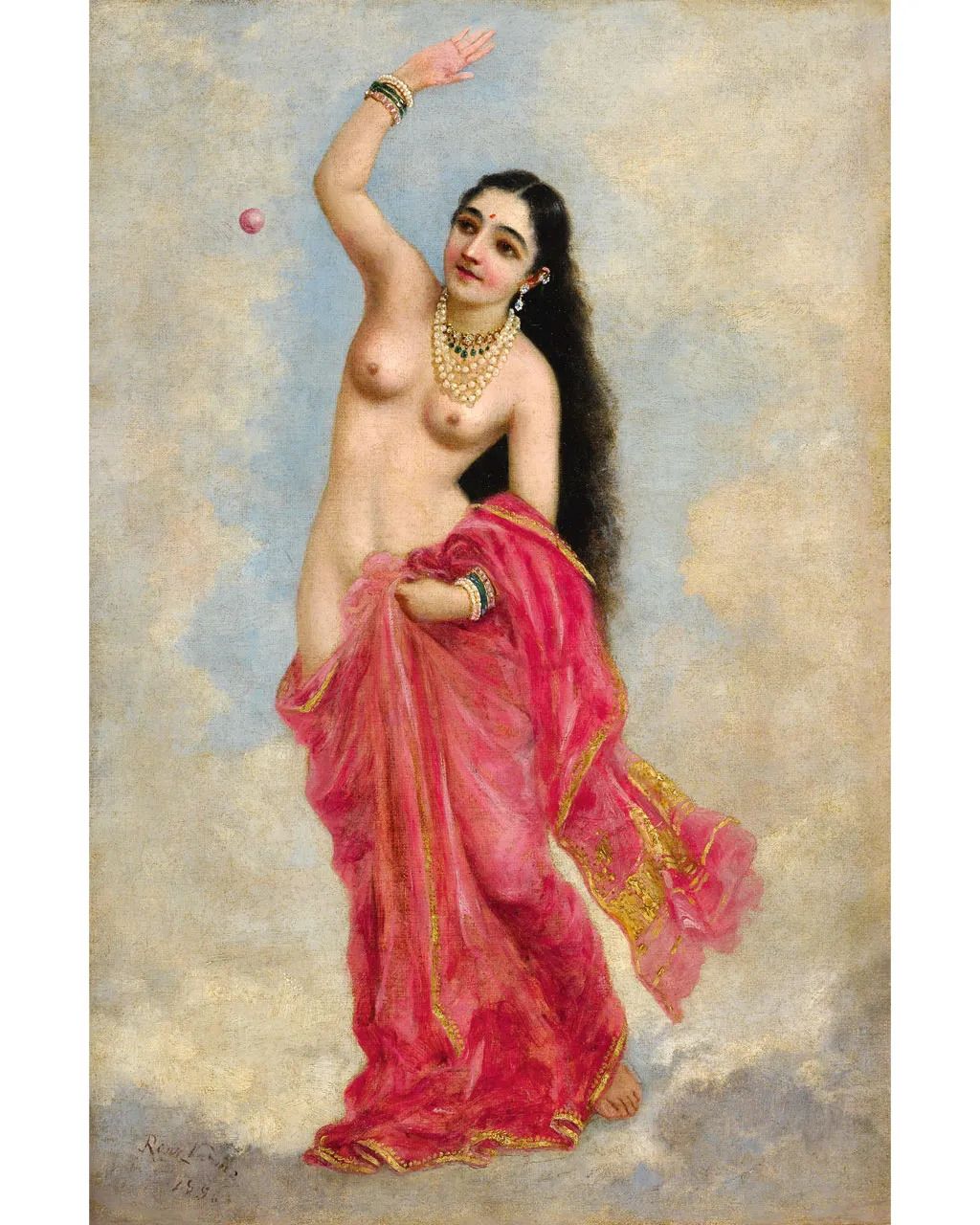 The painting of Tilottama, a celestial nymph from Hindu mythology, was auctioned at Sotheby's, New York, in 2018

Rupika Chawla, art curator and author, in her book Raja Ravi Varma: Painter of Colonial India, writes: "He underwent a process of conscious selection of themes, genre and medium in the paintings he wished to make – the grand historical paintings of gods and heroes, and portraits of the rich and powerful. He allowed Western influences to prevail when and where it suited him, and from which he knew he could derive the maximum advantage."

As an artist he changed India's vision of gods and goddesses from supernatural imagery to a human style, with an attention to minute details, from fabrics, hair styles and jewellery to artefacts and furniture. His style used textures, light and shadows to help evoke the mood. It is famously said in India that in his paintings you can almost hear the rustle of silk sarees.

His favourite subjects were women in traditional attire, reclining on a bed or lost in thought. "His speciality was realism in its peak – each costume and piece of jewellery looks the same [as the] original. The pearls, diamonds, the temple jewellery, all were of that era. The furniture, building interiors, utensils, all were available at the time he did his paintings," says Kochi-based artist, Bindhi Rajagopal.

Ravi Varma was born in Kilimanoor, Kerala, 25 miles from the capital city of Trivandrum, in April 1848, into a family of poets and scholars with royal connections. Kilimanoor was famous for producing consorts for the princesses of the matrilineal royal family of Travancore.

The mother of Jay Varma, Rukmini Varma, tells BBC Culture, "I have heard stories from my grandmother and mother of the artist drawing and scribbling on the walls with charcoal as a young child, and a servant sitting beside him with a bucket of water and cloth to mop it at regular intervals, and he would [then] continue to draw again.

"Seeing his artistic potential, his uncle took him to the royal court of Ayilyam Thirunal, the ruling king, so that he would learn art from the court painter. He also came across Theodore Jenson, a Dutch painter who was there to paint the royals. It is said that Jenson was reluctant to teach the artist, but RRV was such a genius that [he] picked up his methods just by watching him."

At the age of 18, Varma married Bhageerathi Bayi of the royal house of Mavelikkara, who was 12 years old, not unusually young for the times. It was a marriage that forged closer ties with the royal family, and helped him further his career.

By the age of about 22, he was already an established artist. At the Madras Fine Art Exhibition in 1873, his work Nair Lady Adorning her Hair, depicting a woman with a jasmine garland, was awarded with the Governor's gold medal.

In 1881, Ravi Varma was invited to paint the portrait of Sayajirao Ill, the Gaekwad of Baroda, with a special studio created for him in the palace grounds. Many princes from different princely states invited him to paint their portraits. "He was one of the first Indian artists to have a pan-India presence, and [to] be acknowledged as an artist by many aristocratic families and royals," says Jay Varma.


Defining moment

In his lifetime RRV was criticised as well as praised. He was the artist who popularised "calendar art", producing oleographs of gods and goddesses. The defining moment was in 1894 when Varma set up a lithographic printing press in Lonavla, with imported German machines and techniques. The press produced oleographs (prints designed to resemble oil paintings) depicting gods, goddesses and scenes from epics and religious texts like Mahabharata, Ramyana and the Puranas. It also printed match-box labels, picture postcards, textile labels and advertisements.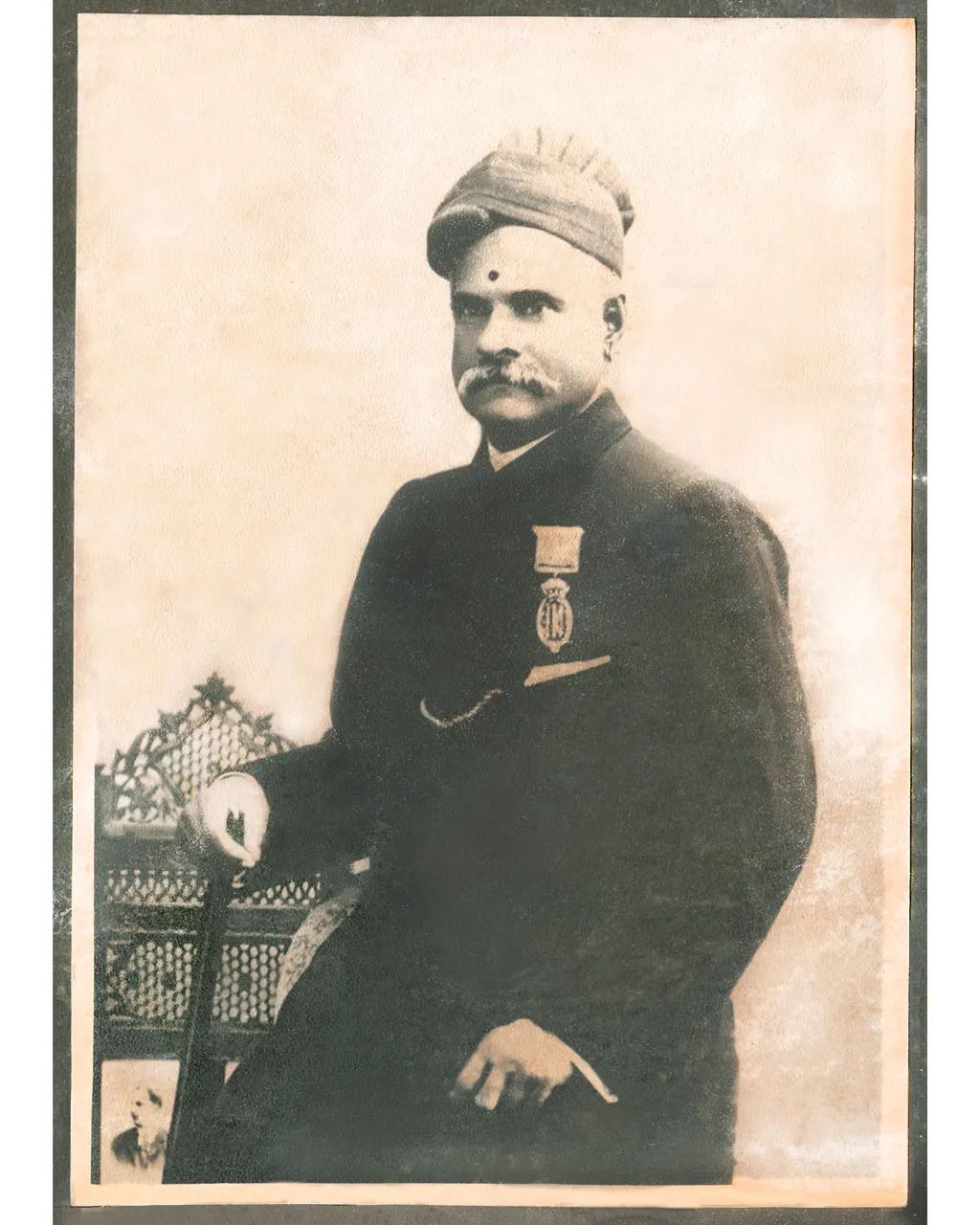 RRV, as he is known, has been a hugely influential figure in Indian culture – he was awarded the Kaiser-e-Hind medal in 1904

This brought his art into millions of Indian homes, and introduced many ordinary people to the fine arts. This mass production also challenged caste hierarchies by enabling everyone to buy prints of his work and so have access to religious imagery.

The press also brought him in touch with many nationalist leaders and opinion makers, like Swami Vivekananda. Sister Nivedita, an Irish writer and a disciple of Swami Vivekananda, praised him for "the urge to feel and act patriotically and bring painting to the service of Swadeshi and Nationalism".

Author Shreekumar Varma, Ravi Varma's great-great grandson, tells BBC Culture: "Not many people know that, besides his artistic talents, he was a progressive man who spoke fluent English, was a Sanskrit scholar, wrote Malayalam poetry, was extremely well travelled… He was also an extremely generous person. One of the people who worked at his printing press and was helped by him financially, Dadasaheb Phalke, went on to make India's first full-length feature film, Raja Harishchandra, which was highly influenced by the artist's works."

Today his paintings and prints are found in the palaces of Baroda, Thiruvananthapuram and Mysore, as well as with private owners and museums. Since they were classified in 1979 as "national treasures", they cannot be taken out of the country or sold abroad.

"When I was staying at a resort in the Kerala Backwaters [which was an inspiration for many of the artist's landscapes] I discovered by chance a painting of a bishop hanging on the walls, that had been done by the artist. So, one never knows how many commissions he actually did in his lifetime," says Jay Varma.

A lot of the symbolism and subjects in his paintings were inspired by his extensive travels. "In an age when travel was frowned upon as it was said to make you 'impure', nothing deterred him from exploring the country along with his brother. On many of his travels, he made rough sketches, sometimes even watercolours, of the things he saw," explains Jay.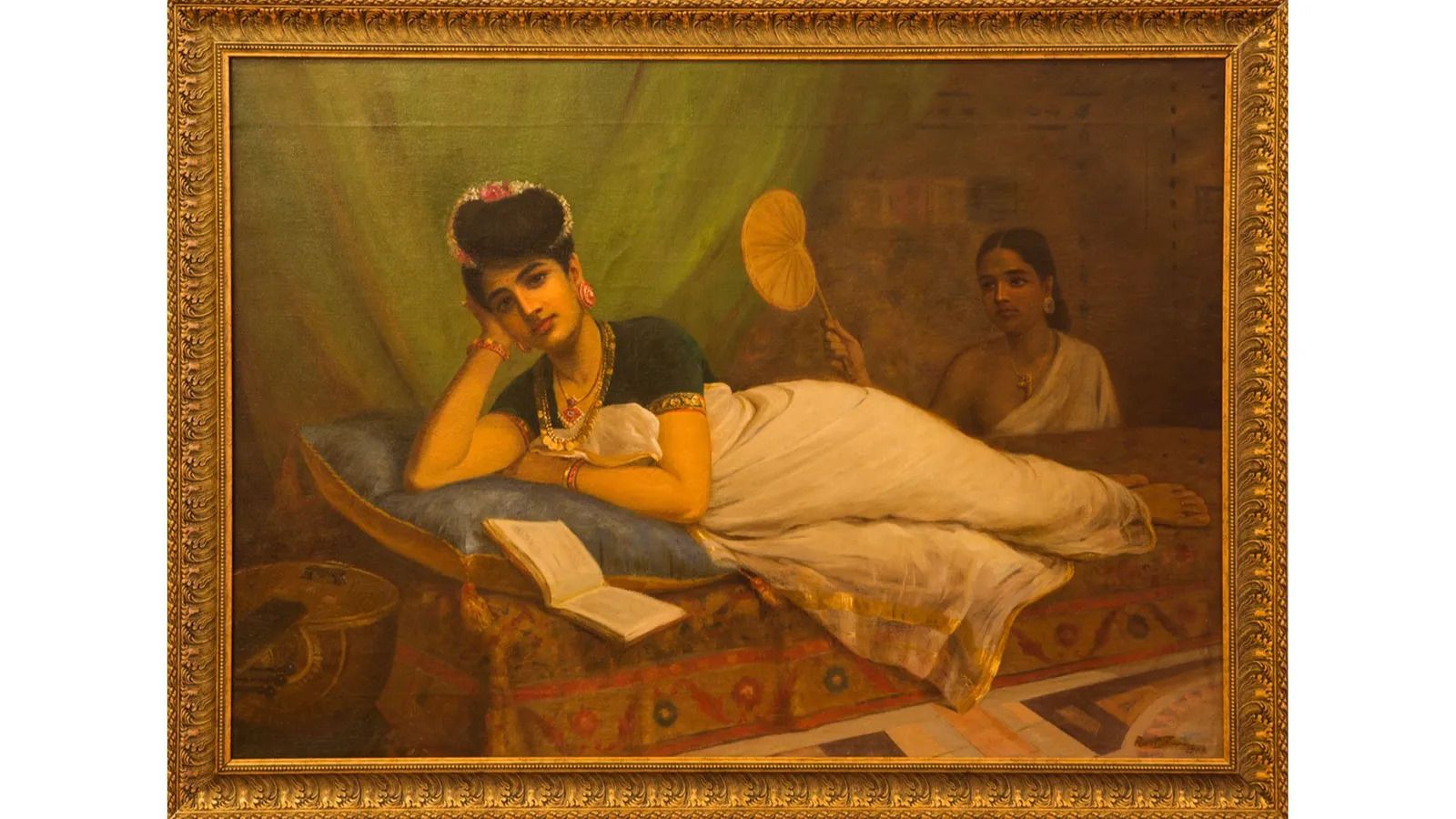 Varma paid great attention to detail of textiles and jewellery – Reclining Nair Lady is one of his best-known works

RRV was influenced by many painting traditions, from the Tanjore painting style, to Rubens, to the Dutch painter Lawrence Alma-Tadema, who painted scenes from Roman, Egyptian and Greek history. "If you see his paintings of goddesses like Saraswathi, they are wearing modern sarees and high-necked blouse with full sleeves, a Victorian influence, though he grew up around women in his native Kerala who were topless with the traditional mundu [similar to a sarong]," says writer Manu Pillai, author of the book False Allies: India's Maharajahs in the Age of Ravi Varma.

Arguably, he could be seen as an Indian parallel to Vladimir Tretchikoff, the Russian artist who painted portraits, still lives and animals inspired by his many travels. He called his own style "symbolic realism", though many art critics called it kitsch. In his 2013 book Incredible Tretchikoff, Boris Gorelik wrote that Tretchikoff was the wealthiest artist after Picasso. His prints are now considered the height of retro-chic.


Revered and reviled

However, it was not as if everything was perfect in Varma's life, and his art was not admired by all. His bold works that featured sensuous women in diaphanous clothes courted controversy in traditional Indian society. His father-in-law was involved in a scandalous murder in the 1860s. He suffered personal tragedies and financial losses, thanks to the printing press. Art historian Ratan Parimoo in a research paper argues that Ravi Varma was responsible for the "vulgarity" of popular art.


However controversial his legacy may be, contemporary Indian art was never the same after he appeared

"What stands out about RRV is not that he was the only Indian artist who painted from mythology or the most talented, but that he had ambition and was willing to hustle to succeed," Pillai tells BBC Culture "Of course, his aristocratic family connections opened many doors for him, and he was never treated as an artisan, but as a high-caste artist received with robes of honour and pearl necklaces in royal courts. [But] to his credit he never rested on his privilege, and worked very hard till the very end.".

Many called his art cheap and kitsch, and some even said it was sacriligeous or obscene. In the 2008 Bollywood film Rang Rasiya, loosely based on Ranjit Desai's book Raja Ravi Varma: A Novel, the artist is portrayed dramatically defending himself against his detractors.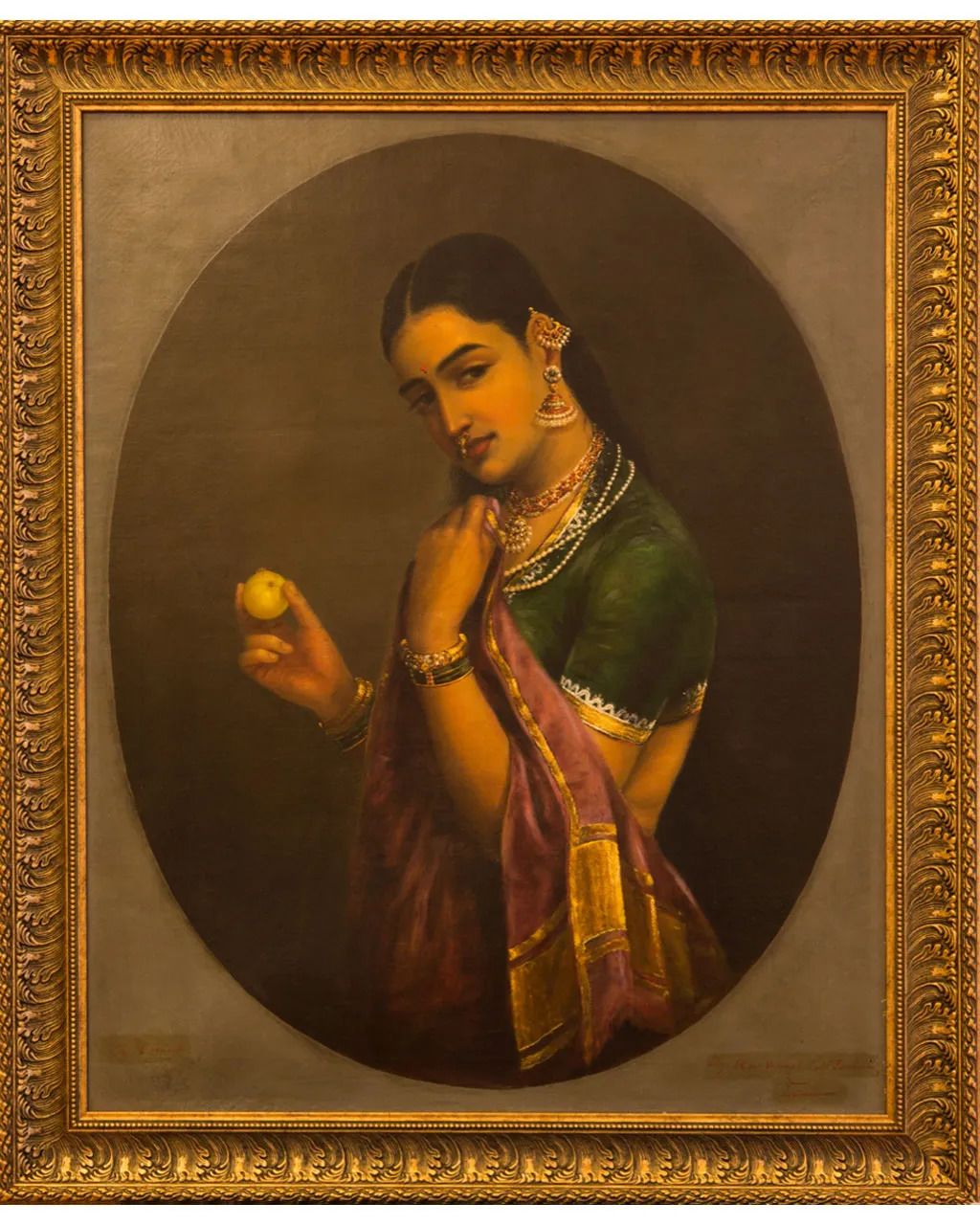 Coquette was another famous Varma work – the artist was, for some traditionalists, a controversial figure

After Indian independence, interest in the artist's work declined, and it was relegated to the category of mass-produced calendar art. "Many thought that he had sold out to the colonisers by using Western techniques on Indian subjects, but that does not really stand up to scrutiny," says Pillai. "Art by its nature is ever-evolving – the artist could have chosen to paint white people sitting in gardens, but chose instead to paint Indian subjects with a different perspective, that changed religious imagery forever."

In 1993 Rupika Chawla, conservator and art historian, and A Ramachandran, a Delhi-based artist, curated the first major Ravi Varma exhibition at the National Museum, New Delhi. This was the beginning of a serious interest in the artist, with unknown works emerging from private collections and dusty attics, and art students studying his paintings and prints.

"In the 90s with liberalisation, and India becoming a power to reckon with, everything Indian became cool and fashionable, from food, festivals to films and art. This is how RRV's art started trending again with galleries, and collectors becoming interested in it," says Singh.

The Raja Ravi Varma Foundation was set up in 2015, by his great-great granddaughter Rukmani Bayi Thampuran, and the activities are managed by the CEO Gitanjali Maini and Jay Varma. "Our main objective is to initiate and support research and studies in the work of Ravi Varma, promote his legacy and document all the information on his life. We also help authenticate the artist's works as there is a problem of many fakes in the market and many people reach out to us if they have a painting," says Jay Varma. They have held film screenings, lectures and exhibitions on the artist's work.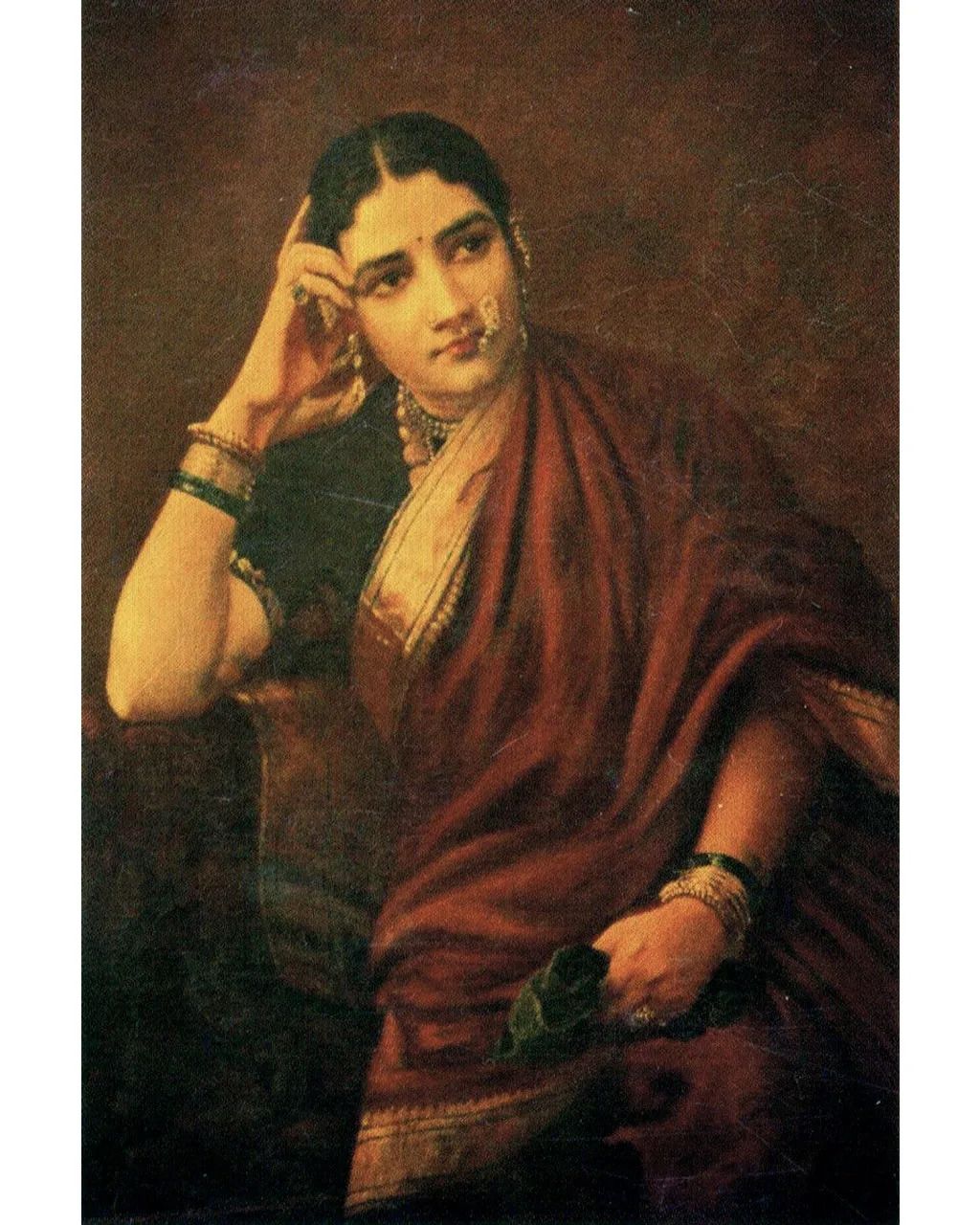 Although Varma's techniques were influenced by European art, his subjects and themes were always Indian

RRV's art has inspired many contemporary artists, photographers and filmmakers. In 2008, a saree hand-woven in silk, precious gems and gold, and featuring reproductions of paintings by Raja Ravi Varma, entered the Guinness Book of World Records as the most expensive silk sari ever made. Bengaluru-based visual artist Pushpamala N has reworked three popular RRV paintings using herself as the main protagonist. For his 2020 calendar, G Venket Ram, a Chennai-based photographer, had 12 famous personalities from the southern film and dance industry to pose, and adapted masterpieces by Raja Ravi Varma into photographs.

However controversial his legacy may be, contemporary Indian art was never the same after he appeared. As Pillai puts it: "He was the complete package. He had acres of land and wealth, but was fiercely ambitious and never stopped doing what he was passionate about. [He was] bold, charismatic, a man who networked and innovated, and had a forward vision of art serving a larger purpose."