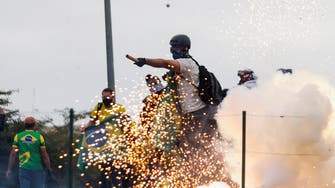 US, Canada, Mexico slam 'attacks on Brazil's democracy'
The leaders of the US, Canada and Mexico slammed the attacks by supporters of former Brazilian President Jair Bolsonaro on government buildings over the weekend, calling it an "attack" on Brazil's democracy.
"Canada, Mexico, and the United States condemn the January 8 attacks on Brazil's democracy and on the peaceful transfer of power," the joint statement read.

Left-wing President Luiz Inacio Lula da Silva took office at the beginning of the year after defeating Bolsonaro during the October elections. But supporters of Bolsonaro, and the former president himself, have claimed that the election was rigged and stolen.

The international community quickly condemned the attacks on Sunday, which saw thousands of protesters ransack the Brazilian presidential palace, Congress and Supreme Court.

The trio of the US, Canada and Mexico said they stand with Brazil "as it safeguards its democratic institutions.

"We look forward to working with President Lula on delivering for our countries, the Western Hemisphere, and beyond."

On Sunday, the top US diplomat, Antony Blinken, said violence to attack democratic institutions was always unacceptable.

Some progressive Democrats have called for the US to extradite Bolsonaro, who is believed to be spending time in the state of Florida.